Ethnic Kink, TopBucks Mobile Solutions Ink Deal
Ethnic Kink, TopBucks Mobile Solutions Ink Deal
Posted on Feb 5, 2013 by
CastingLou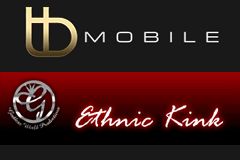 Ethnic Kink, TopBucks Mobile Solutions Ink Deal
Ethnic Kink, producer of niche fetish-based content, has inked a distribution deal with TopBucks Mobile Solutions, the companies announced Tuesday.
The agreement between the two companies was brokered by consultant Rodney Thompson of Cyber Stampede, who called it a "perfect marriage between two quality organizations."
Liam Colins, director of business development for TopBucks Mobile Services, told XBIZ that Ethnic Kinks content fits well within TopBucks lineup.
Were always on the lookout for unique, high-quality content for the mobile market," Colins said. Highly targeted niche content tends to convert well, and you cant get much more targeted than a site like TicklednTeased.com.
Ethnic Kink owner Sonya said she was elated to be part of TopBucks Mobile Services, a unit of Pink Visual.
"This partnership allows Ethnic Kinks fans the opportunity to watch our content library of over 750 and counting videos on the device of their choice," she said. "Partnering with Pink Visual ensures that our growing fan base will have access to our content on multiple platforms."
Sonya said that the first two themed sites to launch will be TicklednTeased.com, a girl/girl bondage tickling fetish site and EbonyCockTeasing.com, an ethnic handjob site.
Thompson, who got the two entities together, told XBIZ that Ethnic Kink's huge fetish and BDSM traffic combined with Pink Visual's world leading technology solutions "will be a win-win for everybody."